Wheelbarrow
Description: A wheelbarrow is a block that can make Compost from soiled or waste products. 
---
Details: 
| | |
| --- | --- |
| Renewable: | Yes |
| Stackable: | Yes (64) |
| Tool: | Pickaxe |
| Blast Resistance: | N/A |
| Hardness: | N/A |
| Luminant: | No |
| Transparent: | Partially |
| Flammable: | No |
| Flammable (Lava): | No |
---
Obtaining
Crafting
Wheelbarrows come in all 16 base Minecraft colors.
A wheelbarrow can be crafted with 4 Sticks, 1 Bucket, 1 Kelp and 1 Dye of the chosen color.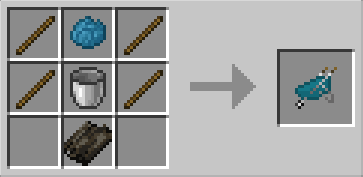 ---
Usage
Placing
Wheelbarrows occupy a 2x1 space. The block that is right-clicked to place the item will be the back half of the wheelbarrow (facing towards the player), and a further 1 block is required in front of it. Wheelbarrows will still place even if the space in front of it is occupied - meaning it can clip through into other blocks. This looks odd but will not impact the functionality of the object. Wheelbarrows can be placed in all directions (NSEW)

Composting
Right-click a wheelbarrow with soiled Shavings or Manure (poo) in hand to add it to the wheelbarrow. As more of these are added, the wheelbarrow will visually fill up. Once 8 materials have been placed in the wheelbarrow, the contents will disappear and 1 Wet Compost Block will be dropped.  
Breaking & Moving
Instead of breaking wheelbarrows with a tool to move them around the barn, they can be quickly picked back up by shift + right-clicking the wheelbarrow. This will return the wheelbarrow as an item to the inventory which can be placed elsewhere. The wheelbarrow item will retain all data on how full it was, so the contents will not be wasted.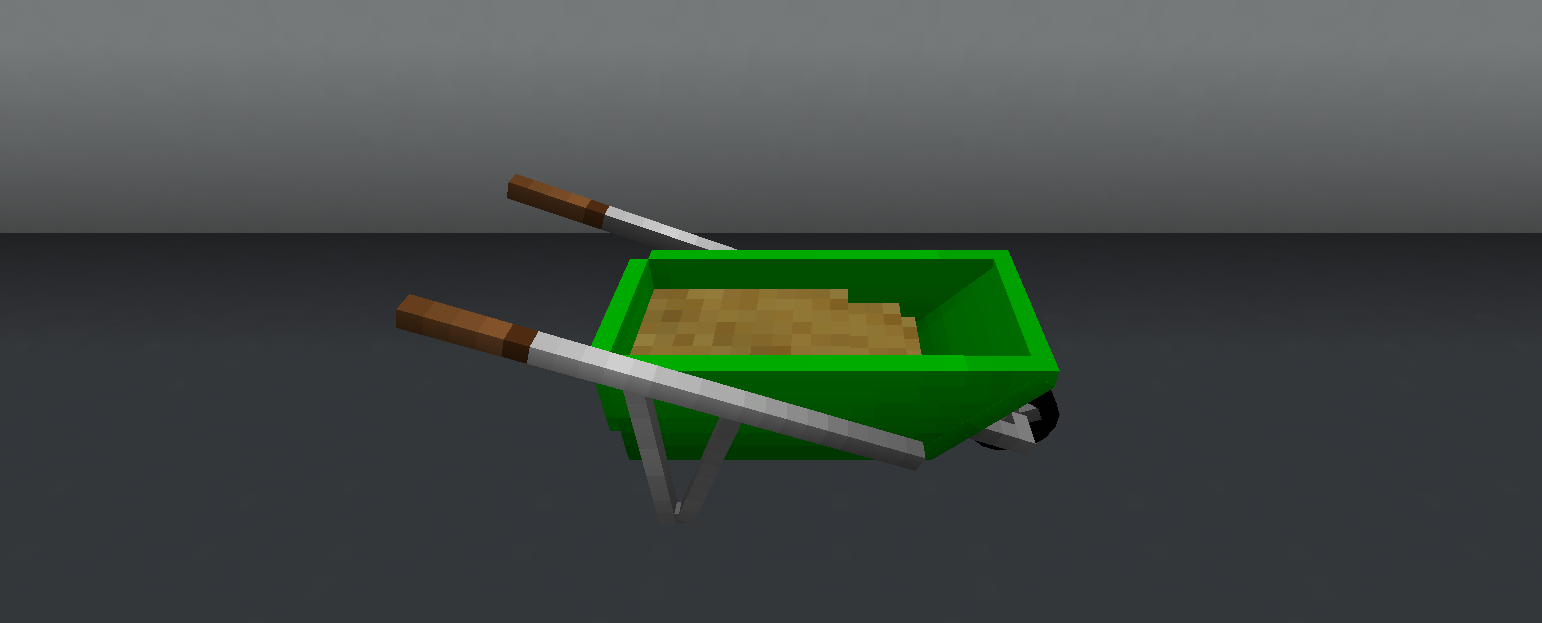 Shown: A wheelbarrow with several layers of compostable materials.


Shown: All 16 color variants of wheelbarrows.
---
Known Issues
If you find an issue, please report it to our bugs channel on Discord. We ask that you look to see if your issue was reported first!
---
Changelog
View Changes

This is not a complete list of version changes / fixes. It is a changelog of relevant wiki-related version information.

MC Version
Release
Notes
1.18.2

1.18.2-1.2.8
Wheelbarrows can be picked up with shift + right click
Wheelbarrows retain their inventory (contents) when broken or picked up
Wheelbarrows produce wet compost blocks instead of compost bonemeal
1.18.2-1.0.0
Wheelbarrow recipe changed to replace Cauldron with Bucket and stone with Kelp (plastic substitute)
1.16.5
1.16.5-0.5.3.21

[Deprecated Recipe]

---
Data values
swem:wheel_barrow_white
swem:wheel_barrow_light_gray
swem:wheel_barrow_gray
swem:wheel_barrow_black
swem:wheel_barrow_blue
swem:wheel_barrow_cyan
swem:wheel_barrow_light_blue
swem:wheel_barrow_purple
swem:wheel_barrow_magenta
swem:wheel_barrow_pink
swem:wheel_barrow_red
swem:wheel_barrow_orange
swem:wheel_barrow_yellow
swem:wheel_barrow_brown
swem:wheel_barrow_green
swem:wheel_barrow_lime