Rose Feed
Description: Rose feed is an item that can be placed in Grain Feeders for Horses to eat, or used in breeding.
---
Details: 
Rarity color:
Common
Renewable:
Yes
Stackable:

Unopened: Yes (16)

Opened: No

Durability:

Yes (4)
---
Obtaining
Crafting
Rose Feed comes in 1 (white, green & red) color.
Rose Feed is be crafted with 1 Sweet Feed and 1 Rose.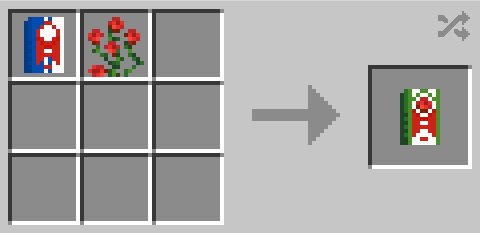 ---
Usage
A bag of rose feed starts out unopened until right-clicked in hand to open. This gives the item's inventory texture a slightly crumpled appearance. Each bag of rose feed can be used four times before it is used up (disappears). Right-click a grain feeder with an open rose feed bag in hand to fill up the feeder.  SWEM Horses will eat from accessible grain and hay-feeders when hungry.
---
Known Issues
If you find an issue, please report it to our bugs channel on Discord. We ask that you look to see if your issue was reported first!
[-] Shavings can sometimes obstruct horse pathing to grain feeders (so horses do not eat rose feed).

---
Changelog
View Changes

This is not a complete list of version changes / fixes. It is a changelog of relevant wiki-related version information.

| | | |
| --- | --- | --- |
| MC Version | Release | Notes |
| 1.18.2 | 1.18.2-1.2.4 | Rose Feed implemented to replace sweet feed as a breeding item. |
---
Data values
swem:sweet_feed
swem:sweet_feed_open