Half Barrels
Description: A half barrel is a block that can hold water for Horses to drink.
---
Details: 
| | |
| --- | --- |
| Renewable: | Yes |
| Stackable: | Yes (64) |
| Tool: | Pickaxe (Any) |
| Blast Resistance: | N/A |
| Hardness: | N/A |
| Luminant: | No |
| Transparent: | No |
| Flammable: | No |
| Flammable (Lava): | No |
---
Obtaining
Half Barrels come in 16 Minecraft colors.
A Half Barrel is crafted by right-clicking a Barrel or Western Barrel with Shears.

| | |
| --- | --- |
| | |
| Shear a Western Barrel (2 x White Half Barrels) | Shear a Barrel (2 x Brown Half Barrels) |
A Half Barrel can be redyed with 1 Dye of the chosen color.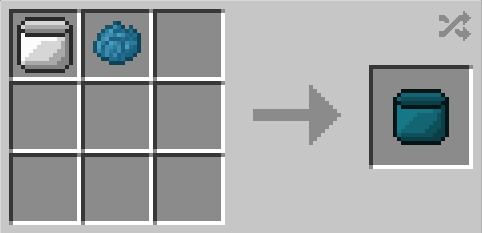 ---
Usage
Placement
Right-click a block with a half barrel in hand to place it on the ground. Unlike troughs, half barrels to not connect to adjacent water items. Half Barrels can hold 3 buckets of water and are ideal for horse stalls. If a larger container is needed for use by multiple horses, troughs can hold up to 4-16 buckets of water.
Filling & Use
Water troughs can hold four buckets of water per individual troughs. When filled the water level will gradually rise until it is near the brim, at which point the barrel contains the maximum amount of water.
Right-click a half barrel with a water bucket to add it to the trough
Right-click a spigot placed above a half barrel 
Rain will slowly fill an uncovered half barrel over time
Horses will drink from accessible half barrels and troughs when thirsty. They consume 1 bucket per use but may take multiple drinks in a short space of time, quickly depleting the contents. As they drink, the water levels will visibly decrease to reflect the current volume.

Shown: All 16 color variants of half barrels.
---
Known Issues
If you find an issue, please report it to our bugs channel on Discord. We ask that you look to see if your issue was reported first!
[~] When there is a block or spigot above the half-barrel, it occasionally does not show the water level. It is still functional, and removing any blocks above usually corrects the render issue.

---
Changelog
View Changes

This is not a complete list of version changes / fixes. It is a changelog of relevant wiki-related version information.

| | | |
| --- | --- | --- |
| MC Version | Release | Notes |
| 1.18.2 | 1.18.2-1.2.3 | Half barrels gradually fill up when raining. |
---
Data values
swem:half_barrel_white
swem:half_barrel_light_gray
swem:half_barrel_gray
swem:half_barrel_black
swem:half_barrel_blue
swem:half_barrel_cyan
swem:half_barrel_light_blue
swem:half_barrel_purple
swem:half_barrel_magenta
swem:half_barrel_pink
swem:half_barrel_red
swem:half_barrel_orange
swem:half_barrel_yellow
swem:half_barrel_brown
swem:half_barrel_green
swem:half_barrel_lime