Separators
Description: A separator is a block that can be used for decoration. It comes in 16 colors.
---
Details: 
| | |
| --- | --- |
| Renewable: | Yes |
| Stackable: | Yes (64) |
| Tool: | Any |
| Blast Resistance: | N/A |
| Hardness: | N/A |
| Luminant: | No |
| Transparent: | Yes |
| Flammable: | No |
| Flammable (Lava): | No |
---
Obtaining
Crafting
Separators can be crafted in all 16 base minecraft colors.
8 Separators requires 4 Iron Nuggets, 1 Dye of the corresponding color and 1 Stick.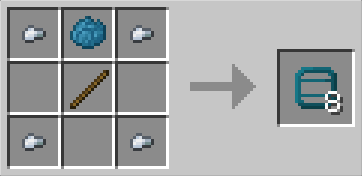 ---
Usage
Separators can be used for decoration, especially as a stall dividers.
Placement
Separators only join together going in one direction and they do not merge at intersections like fences so they are best used between block or wall posts. Separators do not automatically connect to any adjacent blocks except for other separators of the same color. 

Shown: Separators do not join at L intersections (no corner connections like bars).
Connecting edges
Separators have 4 different block states; rounded edges (both), left edge, right edge and middle section. These can all be toggled with the Fence Tool (right click). This also allows players to 'connect' different color separators together. 

Shown (L-R): Normal separator and separators with edge-changes from a fence tool.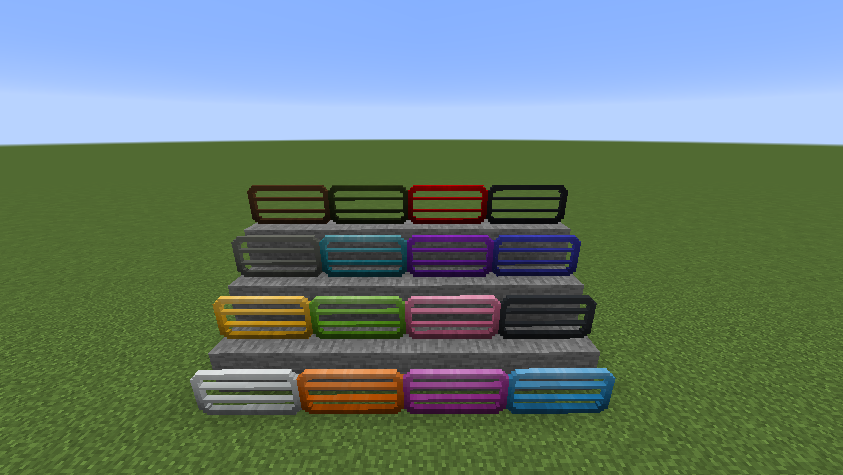 ---
Known Issues
If you find an issue, please report it to our bugs channel on Discord. We ask that you look to see if your issue was reported first!
---
Changelog
View Changes

This is not a complete list of version changes / fixes. It is a changelog of relevant wiki-related version information.

| | | |
| --- | --- | --- |
| MC Version | Release | Notes |
| 1.18.2 | 1.18.2-1.0.0 | Separator recipe changed from Iron Ingots to Nuggets. |
| 1.16.5 | 1.16.5-0.5.3.21 | [Deprecated Recipe] |
---
Data values