Compost
Description: Compost is a derived from waste products, it comes in a wet compost block, dry compost block and compost (bonemeal). 
---
Details: 
| | |
| --- | --- |
| Renewable: | Yes |
| Stackable: | Yes (64) |
| Tool: | N/A |
| Blast Resistance: | N/A |
| Hardness: | N/A |
| Luminant: | No |
| Transparent: | No |
| Flammable: | No |
| Flammable (Lava): | No |
---
Obtaining
Composting
Wet compost is formed by placing soiled shavings and manure in wheelbarrows. 8 items produces 1 wet compost block.

Crafting
A Wet Compost block is crafted by combining 1 Compost (Bonemeal).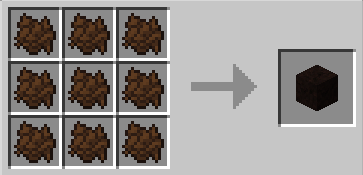 Compost (Bonemeal) is crafted by breaking down Wet or Dry Compost.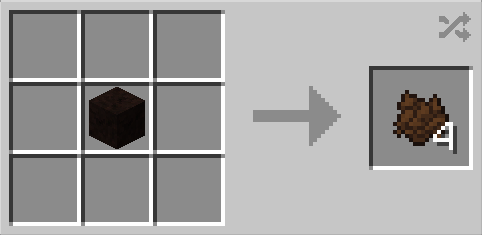 Smelting
A Dry Compost block is crafted by smelting wet compost in a furnace.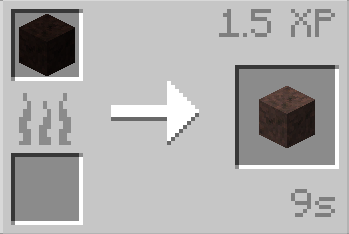 Other
Wet Compost Blocks can be dried out to become dry compost. Wet compost will only dry when exposed to sunlight.
Breaking and replacing the compost will reset the progress.

Shown: Wet compost from Wet (0, 1, 2, 3) to Dry Compost.
---
Usage
The different forms of compost can be used in different ways.
Wet and dry compost can be placed to create muck-heaps for RRP or as a storage of compost for use when needed.

Wet and dry compost can be used in decoration of barns, a satisfying muddy-toned block that looks good in paths

Compost bonemeal can be used the same as bonemeal to speed up growth on crops or 'naturalize' grass.
When condensing compost bonemeal back into compost blocks, some materials will be wasted (9 in > block > 4 out), however this encourages the storage of compost in blocks via muckheaps, occasionally removing the dried blocks from the surface or uncrafting blocks into bonemeal that can be used to grow crops for the player or horse, as well as bonemeal pastures for grass and flowers.
---
Known Issues
If you find an issue, please report it to our bugs channel on Discord. We ask that you look to see if your issue was reported first!
---
Changelog
View Changes

This is not a complete list of version changes / fixes. It is a changelog of relevant wiki-related version information.

MC Version
Release
Notes
1.18.2

1.18.2-1.2.3
Wheelbarrows produce one compost block instead of one compost bonemeal.
Wet and dry compost blocks yield fewer compost (9 > 4).
Wet compost blocks dry into compost blocks when exposed to sunlight.
Compost (block) can be placed without a bonemeal effect.
1.16.5

1.16.5-0.5.3.20

[Deprecated Recipes]










8 soiled Shavings or manure in a wheelbarrow to get 1 compost
9 compost can be combined to make 1 wet compost block
Wet compost blocks can be smelted into dry compost
Dry compost can be right-clicked on the ground for a bonemeal effect
---
Data values
swem:wet_compst
swem:compost
swem:bone_meal_compost