Breast Collar
Description: A Breast Collar is an item that can be placed on tamed SWEM Horses. It comes in English, Western, and Adventure variants.
---
Details: 
| | |
| --- | --- |
| Rarity color: | Common |
| Renewable: | Yes |
| Stackable: | Yes (16) |
| Durability: | None |
---
Obtaining
Crafting
English Breast Collar

English Breastcollars come in 2 colors - black and brown.
An English Breastcollar is crafted with 3 Refined Leather, and either 1 Black Dye or 1 Brown Dye.
Western Breast Collar

Western Breastcollars come in 16 Minecraft colors.
A Western Breastcollar is crafted with 3 Refined Leather and 1 Carpet of the corresponding color.


A Western Breastcollar can be redyed with 1 Dye of the chosen color.

Adventure Breast Collar

Adventure Breastcollars come in 1 (brown & gray) color.
An Adventure Breastcollar is crafted with 2 Refined Leather and 2 Iron Ingots.
---
Usage
Breast collars are an optional part of any tack set. This tack item can only be used following a bridle; by default you cannot place a blanket on unless the horse has a bridle or halter.

Right click a tamed SWEM Horse with a breast collar in hand to equip it - or open the horse's GUI menu (shift + right click with an empty hand) to place the item in the designated tack spot. If a horse already has a breast collar on, you can easily 'hotswap' it for another by shift + right-clicking with the new breast collar in hand.
Tack-equip order:  Bridle > Blanket > Saddle > Girth Strap. Optional: Breast collar, Leg Wraps, Horse Armor, Saddle Bag
Breast collars do not offer any perks or buffs, and you can use any breast collar with any other riding tack pieces to mix English, Western & Adventure. The only exception is Adventure Breastcollars require a full matching set to use Horse Armor, but once the armor is put on the breastcollar can be 'hotswapped' out for different versions.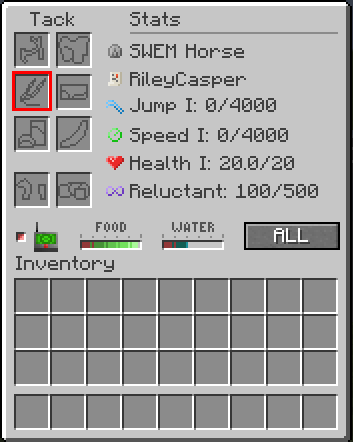 ---
Gallery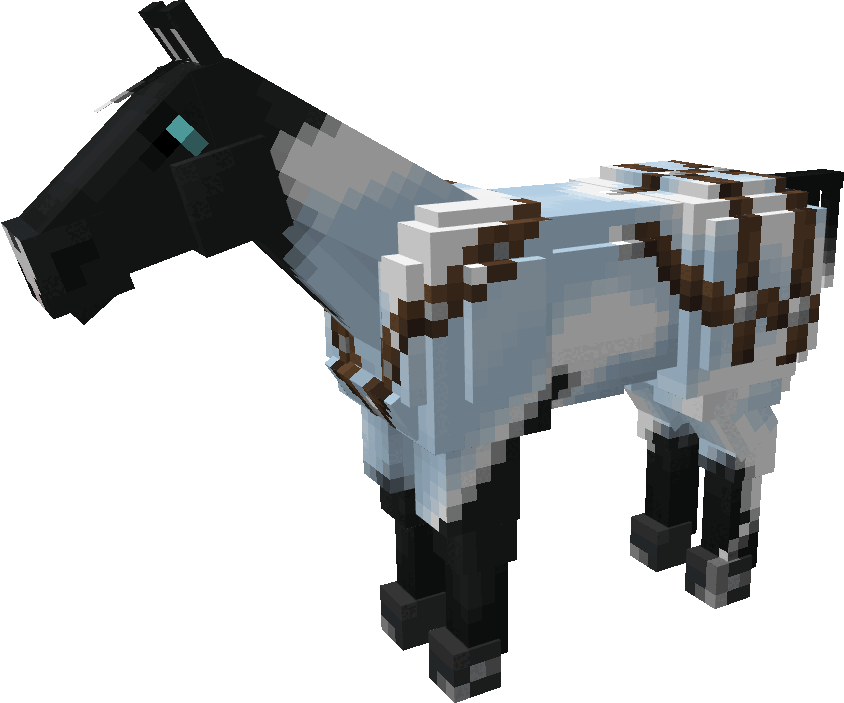 Shown: Adventure (1) > English (2) > Western (16) breast collar variants and driving harness.
---
Known Issues
If you find an issue, please report it to our bugs channel on Discord. We ask that you look to see if your issue was reported first!
---
Changelog
View Changes

This is not a complete list of version changes / fixes. It is a changelog of relevant wiki-related version information.

MC Version
Release
Notes
1.18.2

1.18.2-1.0.0

English Breastcollar recipe changed from 1 Carpet to 1 Dye (Brown or Black)
Western Breastcollar recipe changed from 1 Wool Block to 1 Carpet (16 color)
Adventure Breastcollar recipe changed 1 Refined leather to an additional Ingot.
1.16.5
1.16.5-0.5.3.21

[Deprecated Recipes] Adventure, English & Western Breastcollars

---
Data values
swem:english_breast_collar_black
swem:english_breast_collar_brown
swem:western_breast_collar_white
swem:western_breast_collar_light_gray
swem:western_breast_collar_gray
swem:western_breast_collar_black
swem:western_breast_collar_blue
swem:western_breast_collar_cyan
swem:western_breast_collar_light_blue
swem:western_breast_collar_purple
swem:western_breast_collar_magenta
swem:western_breast_collar_pink
swem:western_breast_collar_red
swem:western_breast_collar_orange
swem:western_breast_collar_yellow
swem:western_breast_collar_brown
swem:western_breast_collar_green
swem:western_breast_collar_lime
swem:adventure_breast_collar