Grain Bin
Description: Grain bin provides a place to break up and store grain (sweet feed and rose feed).
Grain bin textures are a placeholder and will receive future improvements. This item is a proof of concept addition to the 1.2 Food Update and is function was a priority over visual refinement.
---
Details: 
| | |
| --- | --- |
| Renewable: | Yes |
| Stackable: | Yes (64) |
| Tool: | Any |
| Blast Resistance: | No |
| Hardness: | N/A |
| Luminant: | No |
| Transparent: | Partial |
| Flammable: | No |
| Flammable (Lava): | No |
---
Obtaining
Crafting
Grain Bins come in 16 Minecraft colors and 8 wood tones.
A Grain Bin is crafted with 1 Chest, 2 Trapdoors (any) and 1 Dye of a corresponding color.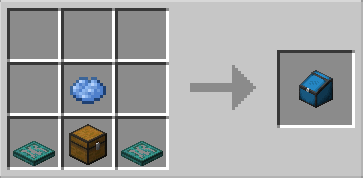 A Grain Bin is crafted with 1 Chest, 2 Trapdoors (any) and 1 Plank of a corresponding wood type.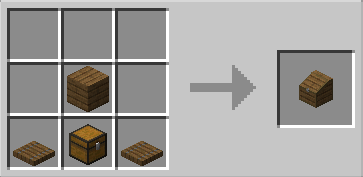 ---
Usage
Right-click the ground with a grain bin in hand to place it. On placement the grain bin will be closed, but can be opened by shift right-clicking the grain bin. Repeating this will close the bin once more. 

Shown: Grain bins in a closed versus open state.
Adding Grain
The bin will appear empty until grain is added; it can hold either Sweet Feed OR Rose feed, but cannot mix feed types.
Right-click a grain bin with an open bag of grain to empty servings into the bin. Each bag has 4 servings, and the grain bin can hold 12 total servings (3 full bags). Every 4 servings added increases the visible grain level.
Scoops
To withdraw a serving of grain, right click the grain bin to receive a single scoop of the feed stored within it per click. This scoop can be directly fed to a horse, or put into a grain feeder. You can withdraw up to 4 scoops per stack (the same servings as a bag). Right-clicking a grain bin with a scoop will also deposit the servings back into the container.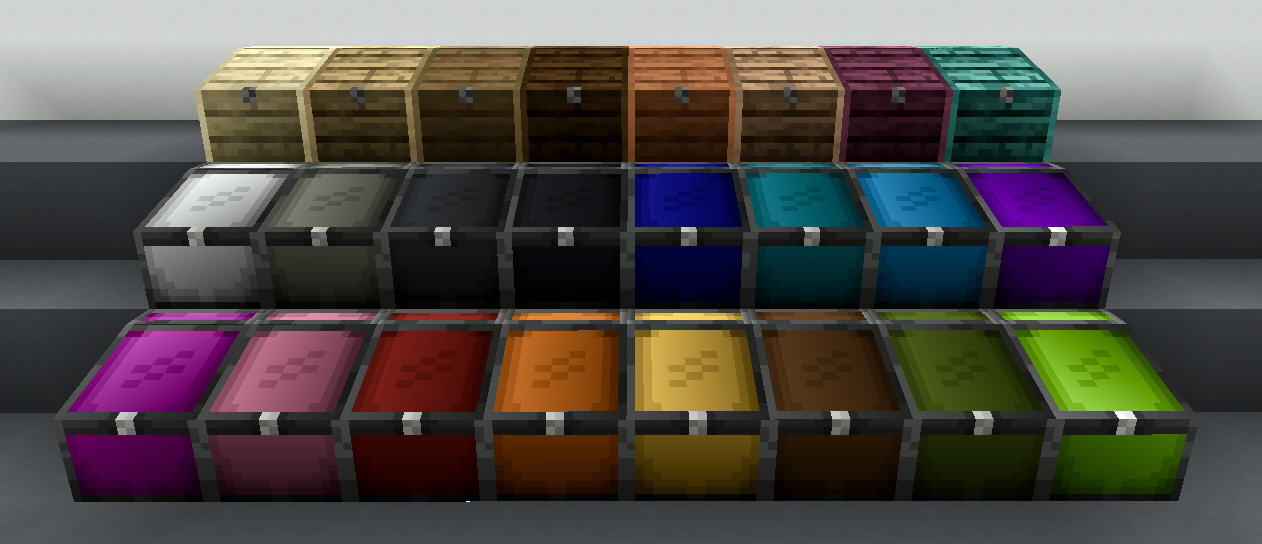 Shown (L-R): All 16 color and 8 wood variants of grain bins.
---
Trivia
It is intentional that grain scoops only stack up to 4 - so carrying around 'loose' scoops is not an alternative to bags (making sweet feed bags somewhat defunct). Realistically bags are much better contained to move around with, and can stack in higher numbers when not opened.
---
Known Issues
If you find an issue, please report it to our bugs channel on Discord. We ask that you look to see if your issue was reported first!
[-] Grain bins accept more than their max. capacity of 12 servings via grain feed bags. Fixed in 1.20.1. 
[-] Shift clicking with a placeable block (ie planks, chest) against a grain bin deletes the item instead of placing it. Fixed.

---
Changelog
View Changes

This is not a complete list of version changes / fixes. It is a changelog of relevant wiki-related version information.

| | | |
| --- | --- | --- |
| MC Version | Release | Notes |
| 1.20.1 | 1.20.1-1.3.0 | [Bug Fix] Grain feeders accept no more than 12 servings from feed bags. |
| 1.18.2 | 1.18.2-1.2.8 | Added grain bins as a proof of concept addition with placeholder textures. |
---
Data Values
swem:bin_grain_white
swem:bin_grain_light_gray
swem:bin_grain_gray
swem:bin_grain_black
swem:bin_grain_blue
swem:bin_grain_cyan
swem:bin_grain_light_blue
swem:bin_grain_purple
swem:bin_grain_magenta
swem:bin_grain_pink
swem:bin_grain_red
swem:bin_grain_orange
swem:bin_grain_yellow
swem:bin_grain_brown
swem:bin_grain_green
swem:bin_grain_lime
swem:bin_grain_birch
swem:bin_grain_oak
swem:bin_grain_spruce
swem:bin_grain_dark_oak
swem:bin_grain_acacia
swem:bin_grain_jungle
swem:bin_grain_crimson
swem:bin_grain_warped