Grain Feeder
Description: A Grain Feeder is a block that can hold Sweet Feed or Rose Feed. It comes in 16 colors.
---
Details: 
| | |
| --- | --- |
| Renewable: | Yes |
| Stackable: | Yes (64) |
| Tool: | Pickaxe (Any) |
| Blast Resistance: | N/A |
| Hardness: | N/A |
| Luminant: | No |
| Transparent: | No |
| Flammable: | No |
| Flammable (Lava): | No |
---
Obtaining
Crafting
Grain feeders come in 16 Minecraft colors.
A Grain Feeders is crafted with 1 Dried Kelp, 1 Bucket and 1 Dye of a corresponding color.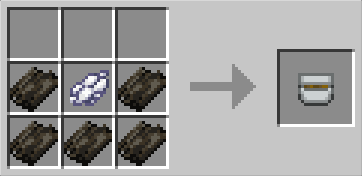 ---
Usage
Grain feeders can hold 1 portion of Sweet Feed or Rose Feed, right-click a feeder with an open bag in hand to provide one serving. When grains are added, the texture will change indicating the the feeder is full. Horses will eat from accessible grain and hay-feeders when hungry.
Placement
Right-click a block with a grain feeder in hand to place it against a vertical (wall) block. When a grain feeder is placed at the intersection of two blocks, it connects to the wall on both corners.
The recommended placement of grain feeders is around one block up from the ground, or two for near full-thickness shavings areas of stalls. 

Shown (L-R): Corner grain feeder, grain feeder, grain feeder with sweet feed and grain feeder with rose feed.

Shown (L-R): All 16 color variants of grain feeders in the normal (non-corner) placement.
---
Known Issues
If you find an issue, please report it to our bugs channel on Discord. We ask that you look to see if your issue was reported first!
[~] Horses may not be able to access feeders (hay or grain) that are surrounded by shavings on all sides. This issue can often be resolved by making sure feeders are clear from surrounding shavings, or raised slightly higher.
---
Changelog
View Changes

This is not a complete list of version changes / fixes. It is a changelog of relevant wiki-related version information.

MC Version
Release
Notes
1.18.2

1.18.2-1.3.0-8
[Bug Fix] Grain feeders no longer drop a full bag on breaking.

1.18.2-1.2.1

Grain feeders accept new rose feed.
[Bug Fix] Grain feeders display sweet feed.

1.18.2-1.0.0
Grain Feeder recipe changed to use dried kelp (plastic substitute).
1.16.5
1.16.5-0.5.3.21

[Deprecated Recipe]

---
Data values
swem:grain_feeder_white
swem:grain_feeder_light_gray
swem:grain_feeder_gray
swem:grain_feeder_black
swem:grain_feeder_blue
swem:grain_feeder_cyan
swem:grain_feeder_light_blue
swem:grain_feeder_purple
swem:grain_feeder_magenta
swem:grain_feeder_pink
swem:grain_feeder_red
swem:grain_feeder_orange
swem:grain_feeder_yellow
swem:grain_feeder_brown
swem:grain_feeder_green
swem:grain_feeder_lime